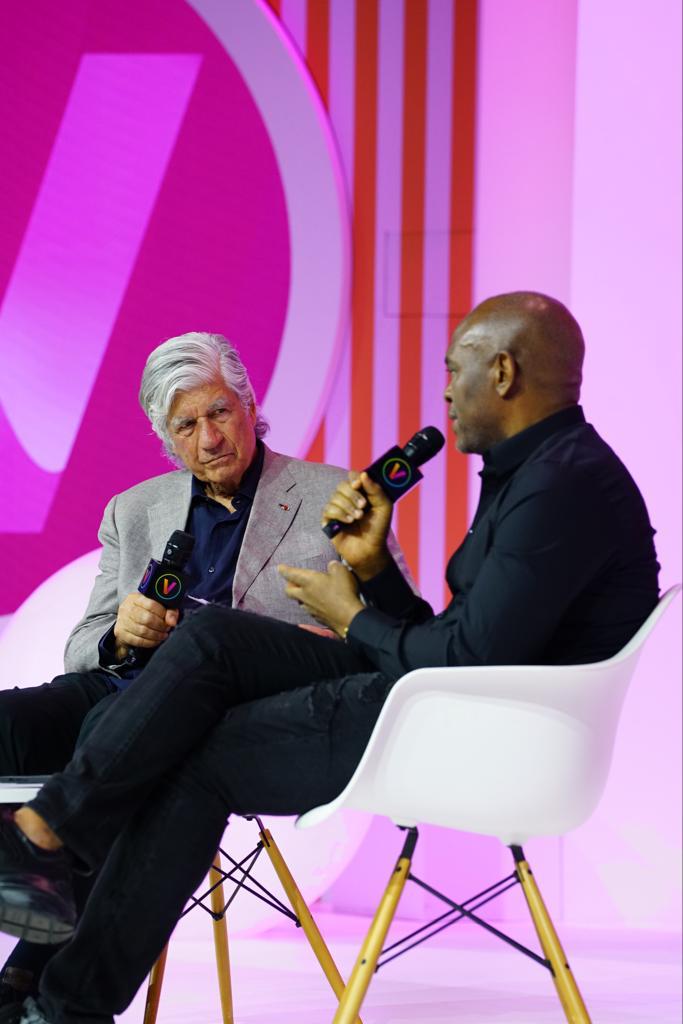 Earlier this month, I was at Europe's Biggest Startup and Tech Event- Viva Technology Europe together with other tech leaders, major corporations, and investors where we tackled the biggest challenges facing the globe and propose solutions and long-term plans.
I had a discussion led by Maurice Lévy, Chairman of Publicis Groupe, the third-largest communications company in the world on "Entrepreneurship in Africa: Africapitalism".  Watch excerpts here.
After my session, I had a sit-down interview with Radio France Internationale (RFI), the state-owned international radio news network of France for their Guest Africa segment.
We discuss my philosophy of Africapitalism, what African governments must do for African entrepreneurs and also share some of my secrets for success.
Read below.
Tony Elumelu: "Africa's economic potential is enormous"
He is a model, a source of inspiration, for thousands of young people in Africa. He is considered one of the most prominent champions of entrepreneurship on the continent. Nigerian billionaire Tony Elumelu has an absolutely edifying journey. He who began his career as a seller of photocopiers, he now chairs the United Bank For Africa (UBA), a pan-African financial services group operating in twenty countries. He is also at the head of Heirs Holdings, an investment company intended to transform Africa, by focusing on key sectors (financial services, electricity, health, etc.). Finally, in 2010, he created the Tony-Elumelu Foundation, which trains the new generation of African entrepreneurs, drawing inspiration from his economic philosophy: "africapitalism". Nigerian billionaire Tony Elumelu is, this Sunday, June 25, the guest of RFI.
RFI: Explain to us what " africapitalism " is, this economic philosophy that you defend? 
Tony Elumelu: I am a business executive in Africa. I am a philanthropist in Africa. I am also an investor in many countries on the continent. And, it is especially in our youth that I invest. Over time, I have developed a conviction: it is up to us, Africans, to develop Africa in the 21st century. And to achieve this, the private sector must take the lead, to rely on the continent's economy. I have seen that with real investment, we can overcome the challenges we face. That's why I created this philosophy: "Africapitalism". It is a call to the private sector to invest in the development of the continent. We need long-term investments in strategic sectors of the African economy. This is what will create economic prosperity, social wealth, jobs… This is what will allow women to participate in economic activities and eradicate poverty in Africa. This is "africapitalism".
RFI: In terms of innovations, English-speaking Africa sometimes gives the impression of being more advanced than French-speaking Africa. Do you share this point of view? 
Tony Elumelu: I do business in more than twenty countries in Africa. I was confronted with different cultures, from one country to another. In certain regions of French-speaking Africa, the work culture is indeed a little different. But what I also see is that with technology, social networks and digital, the world is globalizing. People influence each other in a positive way. I notice that the behaviors, the attitudes, are more and more similar. People are more and more entrepreneurial. You know, I talk to young entrepreneurs in Cameroon. I talk to entrepreneurs in Ivory Coast, Burkina Faso and Mali. Their enthusiasm, I see it. They adopt this entrepreneurial attitude. And so much the better! But, there is one thing I say to governments: entrepreneurs succeed when states deliberately decide to support them and create an enabling environment. This is what most African governments should do. If you see a country where the private sector is growing, where entrepreneurs are thriving, then the government has done it right. African leaders must therefore ensure that they support their entrepreneurs to succeed. is that the government has done things right. African leaders must therefore ensure that they support their entrepreneurs to succeed. is that the government has done things right. African leaders must therefore ensure that they support their entrepreneurs to succeed. 
RFI: This is an interesting point. But, don't you think that the lack of democracy in certain countries, French-speaking in particular, can be an obstacle to the development of entrepreneurship, to the creation of start-ups? 
Tony Elumelu: There is a positive correlation between democracy, good governance and the success of the private sector and entrepreneurs. So we need governments that deliberately encourage entrepreneurship. We need governments that create enabling environments, fiscal laws, infrastructure, coherent policies, stable macro-economic policies. We need governments that facilitate the business climate and the creation of businesses. These are the factors that allow entrepreneurs to succeed. And, governments that don't do that probably won't fare any better. 
RFI: The Tony-Elumelu Foundation was created to empower the women and men of the continent and accelerate the economic growth of the continent. Your foundation shows that you have unshakable confidence in African youth. How do you get all these young people to believe in themselves? 
Tony Elumelu: My own story. What made me believe in myself was having a positive attitude towards life. You also have to look at things in the long term. You may be suffering today. But, tell yourself that things will eventually get better. It is this hope that carries you. And then the universe makes good things happen. Africa's potential is enormous. But, at the same time, we know we have to work hard to turn that potential into reality. What I tell young African entrepreneurs is that the environment in which they evolve is difficult. But don't give up. Be resilient. Keep trying. Look at someone like me, Tony Elumelu: I am not the son of a billionaire and yet, I succeeded in Africa. It means that you too can succeed, even better than me! But, you have to work hard. Be resilient. Concentrate. Ready to make sacrifices. And there you will go far in life. The entrepreneurial adventure is not easy. It's made up of ups and downs. So you have to stay focused and have a long-term view, because that's when it's all going to happen. 
RFI: You are a role model, a source of inspiration for many African entrepreneurs. You started your life as a copy machine salesman. What is the secret of your success? 
Tony Elumelu: Hard work. Resilience. Perseverance. Discipline. Focus. It's also important to learn how to save and not consume everything you have on hand. If you have a dollar in your hands, put some of it aside. If you don't do that when you have a dollar, you won't do it when you have a billion dollars. Finally, the most important thing is the grace of God. 
To listen to the whole interview, click here.