THEME: Fostering Global Prosperity; The Imperative of Luminary Leadership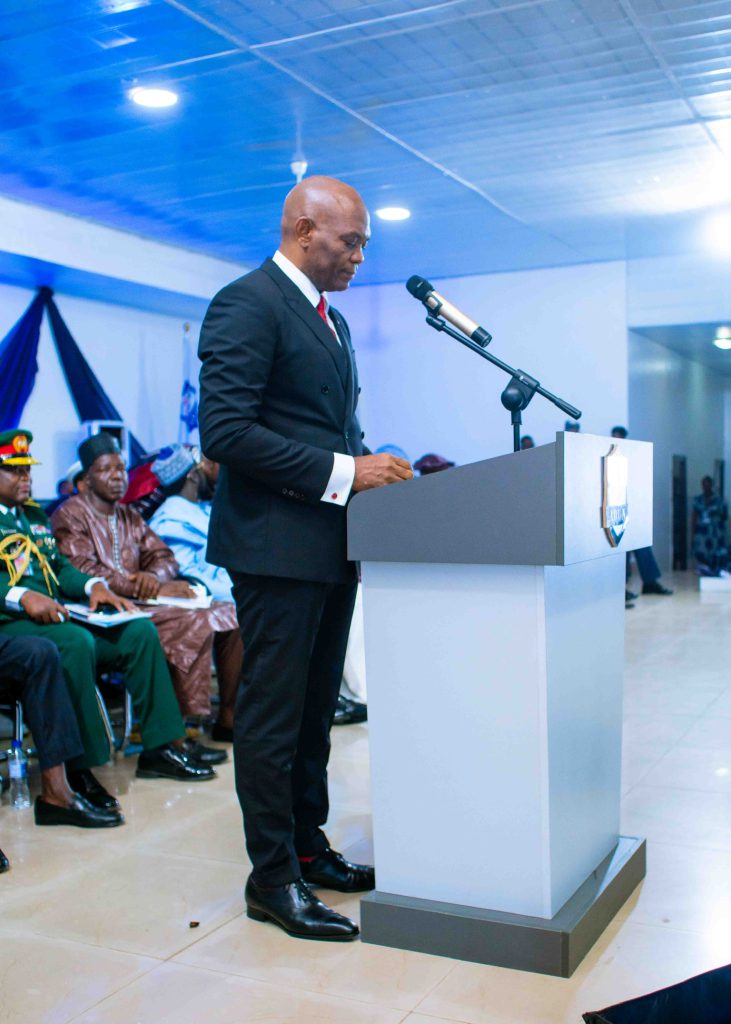 Let me seize this opportunity to thank Mr. President, H.E. Muhammadu Buhari, GCFR, for the opportunity of this university being sited here in Delta State. I am a proud indigene of Delta State and as a strong supporter of all its institutions and residents.
What is leadership?
We know a good leader when we see one. That woman – that man – they stand out, they command attention, they get respect. A good leader brings out the best, good leadership drives us to do better – and is defined by results. We see leadership in our armed forces. We see leadership in business globally – and in Nigeria.
I am an optimist – I built UBA from Nigeria, from Lagos, we have operations across Africa, in twenty countries, in the US, in the UK, France and now the UAE. We built a Nigerian – indeed an African multinational – a complex, demanding and successful business. It took leadership.
I took Transcorp from a moribund state to where it is today – generating about 15% of our daily electricity consumption in Nigeria and exporting to Benin Republic. We see how leadership can change countries – in Singapore – in Rwanda – and now in India.
Change does not happen without leadership and change is what is needed in Africa – and globally.
Let's be frank about Africa. In the 2000s there was growth, there was a political dynamic, we saw per capita GDP rise. We need to fix the insecurity and senseless killing of our people. In Nigeria, we need to end the oil theft that is daily robbing us all of our commonwealth. We need action on climate change, where Africa suffers the consequences of others' pollution from around our planet. We see challenges – security – economic – but also to our environment. Domestic and international. Leadership again is an imperative.
I created the Tony Elumelu Foundation, which supports African entrepreneurs in all 54 African countries, to produce leaders – entrepreneurs are leaders – they need to inspire, to drive to push, to succeed.
In this institution, that brings together our Navy and our private sector, leadership is part of your DNA. As you graduate today, I know a lot must be going on in your heads and minds about what the future holds for you. I have been here before when I was sitting where you are now. I couldn't imagine where I would be in 10, 20, 30 years' time. You have my confidence and my hope.
Let me continue with an important theme.
Napoleon is quoted as saying "I know he's a good general but is he lucky?". We all know about success. We have learnt about leadership. We all know about failure but let's talk about luck.
In business – in life – luck is often overlooked – business schools don't teach luck. Luck is humbling, luck is not spread equally, and it comes in many forms – a chance meeting, an inheritance, a choice of direction between two paths.
Personally, as I think about my 3 decades plus since I graduated, there are many reasons why I am where I am now. I owe one of my first promotions to luck. Yes, I was resilient, determined, rigorous – but let me be frank – luck played an important part.
I talk about "democratizing luck" – making sure that the luck I had can be institutionalised, made fairer, made more accessible. We are all Africans – we know life is tough – in fact getting tougher. We need that extra resilience, that mental strength, that determination but we also need luck.
In what we do at the Tony Elumelu Foundation, we spread luck. We know many do not have networks, access to capital, training. We provide that. Today we have economically empowered over 17,000 Africa youth, each with a non-refundable seed capital of $5,000. This is about USD85m to date.
If I look at my legacy, that is what I want – to make sure that so many of you access that luck – and are successful.
Let me be clear; luck is not a substitute for labour, preparation, persistence – but it is a part of the magic cocktail of success.
There are two ingredients for luck: Hard work and Passion. The more work you put into something and the more passion you apply, the "luckier" you will find yourself. There have been moments in my business life where I felt I got lucky, but when you take a closer look, I was "earning" my luck.
So be successful – and make your luck, earn that luck. The world is in dire need of luminary leaders, and it could be you. Hard work and passion are within your powers and control, so you earn your own luck and help us foster a better and more prosperous world.